Hello! Welcome to the latest issue of "The Catch", published fortnightly
for Nassau's best rowing club.
Miami International Regatta SUCCESS!
Nassau Rowing Club competed in the 47th Miami International Regatta hosted by the Miami Rowing Club on Saturday, 6th April 2019. The event is one of the largest high school regattas in Florida, attracting 236 separate entries from 13 rowing clubs in South Florida, with Nassau RC being the only non-American club in attendance.
Nassau RC fielded the largest pool of competitors in the club's history, with 7 rowers contesting 5 events: Jackson Mamock and Tim Stuby raced high school single and lightweight single sculls, respectively, and combined for the freshman double sculls; while Sascha Proffitt, Crachante Laing, Leila Valerius, and Lily Rose Jamieson raced the girls high school novice quadruple sculls, with Jessica Proffitt joining to form the novice coxed four.
It was the first competitive experience outside of the club for all of the young rowers, as Nassau RC holds intra-club regattas approximately once every quarter. During these local competitions, rowers of all ages and skill levels switch boat classes and crews for everyone to develop. The clubs in the South Florida area have the advantage of larger squads and more regattas, which provide them the luxury of more competitive experience.
Coach KariAnne Kulig remarked on the rowers' performance, "I am so proud and happy for these rowers. Their physical performance and mental attitude surpassed my expectations! We were less than 2 seconds from the podium in the Boys Freshman 2x. I'm looking forward to where we go from here, being that we are still a very young team. Well done, all!"
The young rowers train out of Nassau RC's home base on the northern shore of Lake Cunningham, and can often be seen training after school and early on weekend mornings. Crachante Laing says of race day, "The preparation, the endurance, and the power all came together – the crew and I are so proud of what we did, and the pain and sweat was totally worth the experience. We will only get better from here!"
President Kyle Chea, who first coached Nicholas Mindorff and ​Tevin Creary-Roberts as the first ever Bahamian competitive rowing entry at the 2013 Miami International Regatta, is proud of the Bahamian rowing ambassadors, saying: "These young rowers performed spectacularly in their first regatta, especially at one of this size. There are no opportunities to compete locally, so it's great to test our homegrown talent against some of South Florida's best – even moreso to see in which areas we are competitive. I hope it fuels the desire for the next generation of Nassau RC rowers to keep striving to improve, compete, and build friendships through sport."
While many Bahamian students find themselves funneled into more established ball sports like tennis, soccer, and basketball, those seeking a new athletic experience find different avenues and opportunities through rowing. Mark Palmer, parent of Leila Valerius, reflected: "Through rowing we have seen our daughter Leila grow in confidence, become fitter and make new friends. Her international rowing experience has been the icing on the cake for us. Joining the Nassau Rowing Club has been truly a great experience for our family."
The Nassau RC's result are as follows:
Jackson Mamock & Tim Stuby, Boys Freshmen Double Scull: 4/13
Sascha Proffitt, Crachante Laing, Leila Valerius, Lily Rose Jamieson, Jessica Proffitt, Girls Novice 4+: 4/7
Jackson Mamock, Boys High School Single Scull: 10/11
Tim Stuby, Boys High School Lightweight Single Scull: 5/5
Sascha Proffitt, Crachante Laing, Leila Valerius, Lily Rose Jamieson, Freshman/Novice 4x: 5/5
Spring Learn to Row has begun!
Nassau Rowing Club welcomes our new rowers to Lake Cunningham! On Saturday, 13 April, 6 adults and 7 youth braved the wind and chop to try out the erg and training single. We learned about the parts of a sculling shell, the oar, and the skills needed to row, back, and stop the boat.
Spring session will run through 15 June, ending the week that our summer camps begin!
If you missed the start of this session, and have a flexible schedule, please reach out to Coach KariAnne. NRC is looking into running a late morning class, after school drop-off, on Tuesday and Thursday AM!
Cable Cares Foundation Grant
Nassau Rowing Club received a Bronze level sponsorship grant from Cable Bahamas. It was wonderful to meet the other recipients of grants, many of whom are other non-profit organizations working with youth in sport.
NRC is proudly sponsored by Asa H Pritchard, Arawak Port Development, Bahamas Waste, Bahamas Wholesale Agencies Ltd, Bahamian Breweries (Sands), Cacique International, Cole Insurance, Harbourside Marine, Higgs & Johnson, Holowesko Pyfrom Fletcher Counsel & Attorneys, John Bull, Lowe's Wholesale, Marlin Marine, Morley Realty, Nature's Way Nursery, Oasis Landscape Limited, Odyssey Aviation, Pinder's Custom Brokerage, Powerboat Adventures, Super Value, The d'Albenas Agency Limited, Think Simple, W.E. Services, Weikert Ford, the Cable Cares Foundation, Bahamas Charitable Giving Foundation, and the Aliv Foundation.
THANK YOU to all of our sponsors! We couldn't do what we do without you.
ERG-A-THON POSTPONED until Fall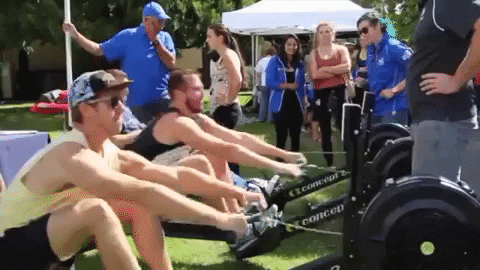 NRC recently advertised that our Ergathon fundraiser would take place on 27 April.
Due to the intense nature of this work, and the warming temperatures of the island, we are postponing this event until October/November.
Stay tuned for another Trivia Night in June!
BREW CREW has begun on Friday nights!
Fancy an evening row? Every Friday at 6 PM we take to the lake, and have a sip on the dock, or at a local establishment following the row.
If you are a current NRC member, or have taken a Learn to Row / have rowing experience, come on down!
Pictured: Kathryn and LJ cruise into the sunset in the 2x last Friday.
Athlete Profile
Name: Timothy Stuby
Age: 15
School: Lyford Cay International School
What drew you to rowing?: "My mother told me that I should try it, so I did. I enjoyed it, so I kept coming back."
Single or double: 1x
Swiss cheese or mac-n-cheese: Swiss cheese (duh)
Sprints or steady state: Sprints
Running or rowing: Rowing (it's a better workout)
Snow ski or water ski: Snow ski
Hard boiled eggs or chocolate eggs? Chocolate eggs
"An interesting fact about me is that I was born in the Bahamas, but I am from Switzerland. I like skiing, mountain biking, climbing, and rowing. Rowing is very popular in Switzerland. I'm glad I discovered NRC"
NRC closed until Thursday
Coach is on holiday. See you Thursday AM! Juniors practice resumes Thursday PM.
*not Lake Cunningham